What is Ford EcoBoost?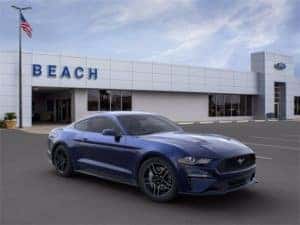 While shopping all over for a new Ford, you may have come across vehicle specs that contain the Ford EcoBoost engine. The Ford EcoBoost engine is a intricate blend of technologies – fuel injection, turbocharging, and twin independent variable camshaft timing. All of this comes collectively with lines of computer code to deliver optimum performance with good fuel economy.
At Beach Ford, we always have vehicles with the Ford EcoBoost engine. We would love to demonstrate to you what this engine can do and why motorists love it.
Why is Ford EcoBoost Engine Unique?
Most gas-powered Ford models have a variant of the Ford EcoBoost® engine. Extremely limited Ford trucks, cars, or SUVs do not have the EcoBoost. For example, the 2020 Ford Mustang Shelby 500 comes with a 5.2L Supercharged V-8 Engine specifically created for the limited-edition vehicle.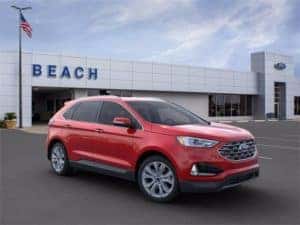 The EcoBoost engine stands out from others because it is produced of lightweight, coated aluminum. The specific coating makes the engine more effective because it decreases friction. Less friction enhances fuel economy and lowers emissions, making the engine eco-friendlier when contrasted to others. When piloting a car like the Shelby Mustang, fuel economy is not a worry, so Ford did not use an EcoBoost under the hood.
A 2020 Mustang with a 2.3L Ford EcoBoost engine with a six-speed manual makes an EPA-estimated 21 MPG city and 31 MPG highway. The 2020 Shelby GT 350 without an EcoBoost engine gets an EPA-expected 14 MPG city and 21 MPG highway. It is easy to see how the EcoBoost influences fuel economy.
Ford EcoBoost Elements
The Ford EcoBoost engine contains three vital components that work flawlessly to give trucks, cars, and SUVs more power and proficiency.
Twin Independent Variable Camshaft Timing

This part of the engine modifies the timing of the intake and exhaust valves while the engine is functioning. Opening and closing these valves increases torque and power when required so that fuel consumption is reduced.

Turbocharger

To improve power, the exhaust stimulates a turbine that squeezes fresh air into combustion chambers. The pressure makes the turbocharge that produces a surge of energy to enhance the output per liter. The turbocharger lowers exhaust, thus making it more eco-friendly than others.

Direct Fuel Injection

To boost fuel economy, the Ford EcoBoost measures an exact amount of fuel and sprays it as a mist into the combustion chamber. DFI lessens fuel expenditure and increases power output.
Vehicles with the Ford EcoBoost Powertrain
    2020 Ford Fusion SE, SEL, and Titanium
    2020 Ford Mustang EcoBoost® and 2.3-Liter High-Performance Package
    2020 Ford EcoSport S, SE, and Titanium
    2020 Ford Escape S, SE, and SEL
    2021 Ford Bronco Sport – All Trims
    2021 Ford Bronco – All Trims
    2020 Ford Edge – All Trims
    2021 Ford Explorer Base, XLT, Limited, ST, Platinum
    2020 Ford Expedition – All Trims
    2020 Ford Ranger – All Trims
    2021 Ford F-150 – Available on XL, XLT, King Ranch, and Platinum, Standard on Lariat and Limited
We encourage you to visit us at Beach Ford to test drive a new vehicle with the Ford EcoBoost drivetrain. We think you will like the power and performance along with the cash you will save with improved fuel economy.