What is a Serpentine Belt?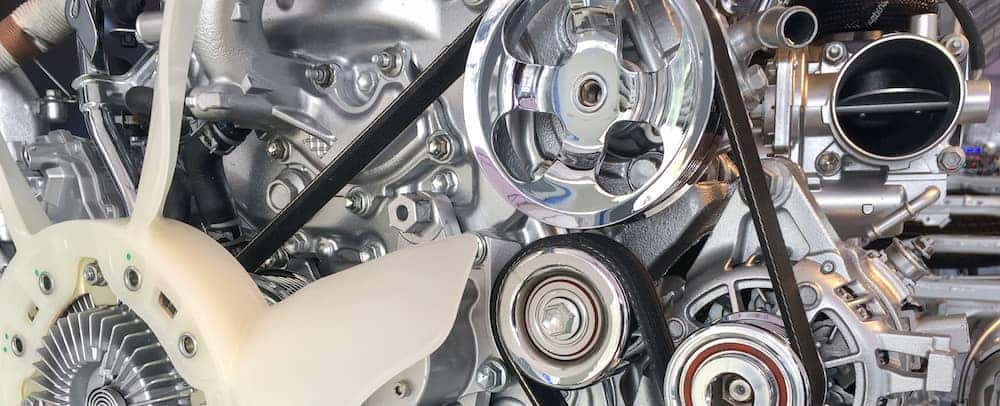 A serpentine belt is a crucial part of your vehicle's engine block. It powers your alternator, power steering pump, air conditioning compressor, and more. Learn a little bit more about what serpentine belts do and when you should replace them, as well as what the risks are when you ignore serpentine belt issues. If you need serpentine belt replacements or other Ford services, make your way to the Beach Ford service center in Myrtle Beach! We always have rotating Ford service specials on hand so you can get back on the Florence roads as soon as possible for the best price.
How Long Do Serpentine Belts Last?
Most modern serpentine belts can last anywhere from 50,000 to 100,000 miles in normal conditions. This can sometimes vary depending on driving conditions and other factors that are a little more difficult to gauge. Because of this, it's smart to keep an eye out for signs that it's time to replace your serpentine belt.
How Do I Know it's Time to Replace My Serpentine Belt?
If it's time to replace your serpentine belt, you will probably notice one or more of these symptoms:
Chirping or squealing sounds from underneath the hood
Systems like power steering or air conditioning failing
Wear or cracks on the rubber of your serpentine belt under the hood
Vehicle failure
What Happens if I Don't Replace My Serpentine Belt?
If you ignore signs of serpentine belt issues, you are risking the failure of many different vehicle systems, including power steering, alternator, water pump, and air conditioner systems. This is why it's so important to replace your serpentine belt when it appears to be failing.
Get a Serpentine Belt Replacement Near Conway!
Have you experienced any of the issues above? Then it's a good time to bring your Ford in for a serpentine belt replacement near Wilmington at Beach Ford. You can rely on our Ford service center as well as our Ford service specials to get the best service for the best deal. Contact us at your convenience, and check out some of our other service and car care tips like whether your car AC uses gas or how to remove a sticker from a car!
In addition to F-Series being the Best-Selling Truck in America for 45 years running and the Best-Selling Vehicle in America for 40 years running, the upcoming 2023 model year adds another significant milestone – 75 years of F-Series production!

Our first mass-market EV has made quite an impression. The proven appeal of this all-electric SUV is substantiated by its head-turning Mustang design, exhilarating performance and intuitive connected technology.

From legacy-oriented enthusiasts to a new generation of performance-oriented drivers, Mustang is the iconic brand that speaks to a wide range of aspiration owners. EcoBoost engine to Shelby GT500, fastback or convertible, there is a model, plus a wide array of performance and customization options, purposely designed to allow Mustang enthusiasts the ability to make…