2022 Commercial Vehicles: The Workhorse Corral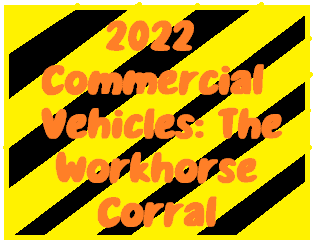 Whether on farms and ranches, in bustling cities or anything in between, for over 100 years, a wide range if Fo9rd trucks have been satisfying the needs of both small and large retail businesses and commercial customers. These highly configurable, high-performing, hot-selling, quiet workhorses are key members of our entire lineup and key to our mutual success.

The Classes We Cover
Most everyone is familiar with F-150, Super Duty, Transit and Transit Connect, there are also several other key members of the team that quietly, and successfully, go about their business in all sorts of shapes and forms. The Gross Vehicle Weight Rating (GVWR) classifications established by the Department of Transportation show the breadth of vans, chassis cabs and cutaways we provide.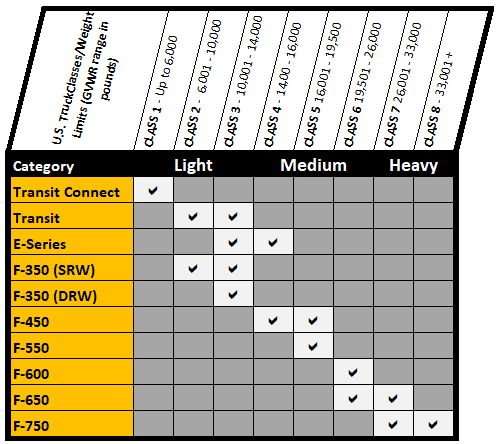 Chassis Cabs and Cutaways
Whether it's bulk transport, emergency vehicle, wrecker or RV, we offer four Chassis Cab and two Cutaway models, each available in a wide array of configurations, ensuring a perfect fit for customer requirements. Ford Chassis Cabs and Cutaways cover Class 2 – Class 8 weight ratings.
Reminder:
Chassis Cab = completely finished cab
Cutaway = rear of cab, open for upfitting applications
Transit Chassis Cab and Cutaway
Transit models offer an entire world of flexible upfit options to match even the most specialized applications. Transit is available in three wheelbases and covers the range of aftermarket body upfit lengths, 10 to 18 feet. Transit Chassis Cab and Cutaway gas models have a maximum GCWR of 15,000 lbs.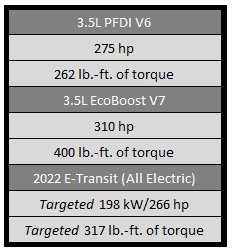 E-Series Cutaway
The E-Series Cutaway is a popular Class 3-4 choice, covering an extensive range of uses, including commercial trades, bus and shuttle transport and motorhomes. E-Series Cutaway is offered in single rear wheel (SRW) and dual rear wheel (DRW) models for heavy-duty applications. E-Series Cutaway is available in three wheelbases, 241.1-inch or 261.1-inch overall lengths and delivers a maximum payload of 8,980 lbs.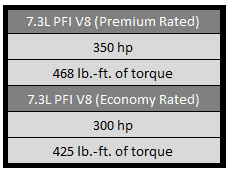 Super Duty Chassis Cab
Super Duty Chassis Cabs are available in four series – F-350, F-450, F-550 and F-600 – eight wheelbase lengths, 10 overall lengths, can handle payloads up to 15,090 lbs. and have a maximum GCWR of 43,000 lbs.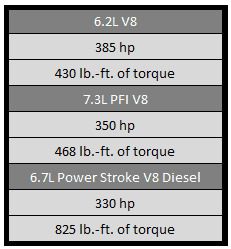 F-650/F-750 Chassis Cab
These Class 7 and 8 trucks feature GCWRs of up to 50,000 lbs. and GVWTs as high as 37,000 lbs. Engines are mated to the heavy-duty TorqShift 6-speed automatic transmission that offers an available power takeoff (PTO) provision to power aftermarket equipment. F-650/F-750 trucks are available in a wide range of wheelbases and lengths to handle nearly every customer need.