2019 Fusion Hybrid & Fusion Energi – Myths Busted!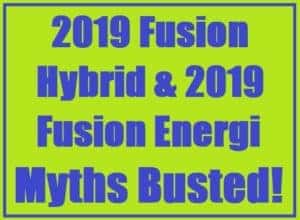 Within the new Ford Fusion lineup, the 2019 Fusion Hybrid and Fusion Energi deliver advanced hybrid and plug-in hybrid technology in an attractive package that appeals to mainstream customers. Although hybrid electric vehicles have been around a long time, many myths, and in turn, apprehension about purchasing one, still persist. Here are facts you can use to bust those myths.
What is a Hybrid?
Fusion Hybrid
Gas Engine + Battery-Driven Electric Motor = HYBRID
EPA-estimated Driving Range: 588 miles
What is a Plug-In Hybrid?
Fusion Energi
Gas Engine + Battery-Driven Electric Motor + Larger Battery with Plug-in Capability = PLUG-IN HYBRID
"Energi", much like "EcoBoost", helps identify a specific type of powertrain: plug-in hybrid
EPA-estimated Driving Range: 610 miles
Sleek Styling
Fusion EVs offer classically styled, traditional sedan design without compromising passenger room. New-for-2019 styling features include:
Front and rear lower fascia, as well as
Fog lamps
Grille design on Titanium, as well as
Decklid
LED taillamps
Advanced Hybrid Powertrains
Fusion Hybrid and Fusion Energi serve up the latest-generation Ford hybrid powertrain technologies. Key elements include:
Shared

2.0L Atkinson-cycle I-4 gasoline engine, as well as
Electronically controlled continuously variable (eCVT) transmission
88-kW electric traction motor, as well as
Regenerative Braking System

Fusion Hybrid

1.4kWh lithium-ion battery

Fusion Energi

9.0-kWh lithium-ion battery, as well as
3.3-kW electric onboard charger
EV Myths – Busted!
Myth – If the Fusion Energi battery gets depleted, the car will be stranded by the side of the road.
Fact – With this in mind, Fusion Hybrid and Fusion Energi have a gasoline engine and Regenerative Braking System. When the lithium-ion battery becomes low on a plug-in (or certain conditions are met), the vehicle simply switches to hybrid mode (gasoline engine working separately or with the electric motor).
Myth – Electric-only (EV) range is only 26 miles, so why would anyone bother with a Fusion Energi?
Fact – According to the U.S. Department of Transportation. 76.8% of American vehicle trips are within 1-10 miles. With an EPA-estimated 26-mile EV range, Fusion Energi drivers can use their vehicle much like a full-electric car.
Myth – Hybrids don't go fast.
Fact – It is important to realize 2019 Fusion Hybrid can go up to 85 mpr on electricity alone!
Myth – Owners need to have a place to plug in Fusion Energi or the vehicle won't start.
Fact – There's no need to ever plug in Fusion Energi is the owner doesn't want to. It can operate as a normal hybrid when charging is not available. When charging is available, Fusion Energi can use a common household 120-volt outlet to charge.
Myth – The battery has to be replaced every few years.
Fact – The impressive lithium-ion batteries in Fusion Hybrid and Fusion Energi are designed to last the life of the vehicle, including a limited warranty for 8 years or 100,000 miles.
Myth – Hybrids don't have any cargo space.
Fact – 2019 Fusion Hybrid and Energi offer impressive cargo space (12.0 cu. ft. and 8.2 cu. ft.), plus, they also have fold-down rear seats that provide extra flexibility.
2019 Model Lineup
Fusion Hybrid

SE
New SEL, as well as
Titanium

Fusion Energi
Impressive Standard Technologies
Fusion EVs offer standard technology features that customers have come to expect, such as:
Ford Co-Pilot360 (standard on all series):

Smart Technology Features, as well as
BLIS (Blind Spot Information System) with Cross-Traffic Alert, as well as
Lane-Keeping System including Driver Alert

Safety Features

Auto High-Beam Headlamps, as well as
Pre-Collision Automatic Emergency Braking (AEB)
Rear View Camera

SmartGauge with EcoGuide dual LCD display screens, as well as
SYNC3

In a word, do you want to learn more about the 2019 Fusion Hybrid and 2019 Fusion Energi? Well, by all means then, give Beach Ford a call today! You'll learn some surprisingly amazing information!