Accessories: Outfitted for Adventure!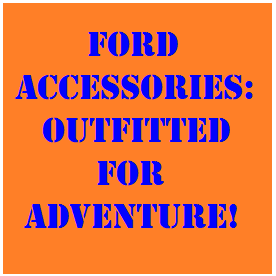 With products like Bronco, Bronco Sport, Ranger and Mustang, plus our full line of SUVs, trucks and vans, the evolving opportunities to assist our customers with accessories has never been greater. Many of our customers, whether their focus is on performance, adventure or work, appreciate the opportunity to outfit their vehicle with equipment designed and engineered specifically for their Ford.
Opportunity Knocking
Fortunately, we offer a wide array of accessories and packages specially designed to meet all sorts of needs. Whether it's offering packages from the Order Guide or assisting with Ford accessories, presenting and including these additional features is a win-win-win situation:
Customers get the confidence and convenience of high-quality accessories and brands without time-consuming shopping and installation.
Our dealership has more growth opportunity. As many items can be added to the sale and installed by the service department.
Enhances our customer relationships by further satisfying their needs.
Highlight Accessories
Keep these key thoughts in mind about accessory opportunities:
Up the game – accessories have the ability to enhance utility, performance or both
Precise fit and finish – equipment offered has been engineered and styled to fit Ford vehicles
Installation – installed at the dealership by Ford-certified technicians
Brand recognition – all parts and equipment are provided by Ford and our collaborative brand partners
Bundled value – packaged accessories present an impressive value equation compared to purchasing individual components
Payment – many can be factored into the cost of the vehicle/monthly payment
Warranty – parts carry a factory-backed warranty

Some third-party add-ons could potentially void the manufacturer warranty
Personalization & Performance
Bronco/Bronco Sport
Bronco Sport launches earlier in the year with more than 100 accessories available. The Bronco 2-Door and 4-Door come to market with more than 200 accessories already available. Additionally, with the modular design of Bronco, many components can be easily modified with a wide range of custom parts and accessories, making the personalization opportunities even greater.
The modular design approach also allowed us, early on, to establish collaborations with several leading off-road aftermarket companies, further expanding the list of Ford-approved off-road parts and accessories.
SUV Outfitters Packages
Many of our SUV customers often upfit their new vehicle with all types of accessories. Already available on Escape, Edge and Explorer, a variety of Outfitter Packages are offered. These impressive cargo- and bike- carrying options will continue to evolve and expand to other product lines.
F-Series and Ranger
Whether overland adventures, high-performance off-roading or work-oriented equipment, F-Series and Ranger are ready to take on all sorts of tasks with an impressive list of accessory options.
Transit and Transit Connect
Big business or small, our impressive vans offer a range of upfits that can be worked into the sale.
Mustang
Mustang is all about making an impression and provides all sorts of personalization options.
For more information, click here.