What is Fresh for the 2021 Ford F-150?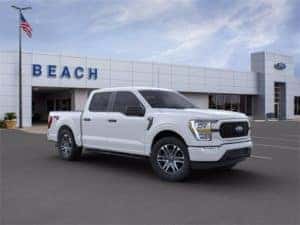 The F-150 has some exhilarating adjustments for the 2021 model year. Ford gave it a top to bottom update, with over 90 percent new or changed. The most substantial update is the adding of a hybrid powertrain with Pro Power Onboard. It additionally has new frame fortifications, updated tech elements, and more safety technology than ever. Ford even included some new features targeted at assisting you get work accomplished while out on a job location. Look at what is fresh for the 2021 Ford F-150.
The Hybrid F-150
Along with the gas and diesel powertrains, the 2021 F-150 will additionally have a hybrid type. The hybrid system will use a 3.5-liter twin-turbo V-6 gas engine and a 35 KW electric motor. A 1.5 kWh lithium-ion battery sits beneath the rear seat, so it does not take up room in the cabin. This system will tow up to 12,000 pounds, and it is expected to get a 700-mile driving span. Ford will present it with any of the trim levels.
Pro Power Onboard
The other huge adjustment for the F-150 is Pro Power Onboard. This is an inverter that operates as a generator. A 2.0 KW unit will come with the 2.7-liter, 3.5-liter, and 5.0-liter gas engines, with a 2.4-KW inverter for the hybrid. The 2.4 KW inverter will provide 20 amps of 110-volt electricity to power everything from a fridge at a camping area to a whole job location of electric tools. Even when parked, the 2021 F-150 can operate as a portable generator.
The Internal Work Surface
Someone who utilizes their F-150 on the job will be grateful for the new Work Surface. It is the ideal size to fit a 15-inch laptop, or you can make use of it for writing and signing contracts. If your truck performs as your breakroom, you can use the Work Surface to have lunch for you and a partner. This highlight is an available choice for all trims, and you can obtain it with both the bench seat and captain's chair designs. When you are done utilizing it, it conveniently folds down into the center console and out of the way with just the push of a button.
Max Recline Seats
We spend a huge amount of time in our motor vehicles, and Ford wants to make for sure you can find comfort if you need to take a breather. The new Max Recline Seats come as a choice for the King Ranch, Platinum, and Limited trims, and fold down flat to nearly 180 degrees. The bottom cushion even climbs to meet the back cushion for full lower back support.
12-Inch Touch Screen
You will undoubtedly see the whole shebang on the 12-inch touch screen that comes standard in the XLT and beyond. It has split-screen abilities and permits you to control multiple tasks concurrently, and the landscape design fits flawlessly in the dash.

The 2021 Ford F-150 gives consumers plenty to talk about. The modifications add more power, functionality, and additional accessibility to make your truck a home away from home or a workstation on wheels.