Thanksgiving Wishes from Beach Ford
A special greeting of Thanksgiving time to express to you our sincere appreciation for your confidence and loyalty.
We are deeply thankful and extend to you our best wishes for a happy and healthy Thanksgiving Day.
Dear Friends of Beach Ford and Beach Automotive Group,
We offer you a bit of Thanksgiving cheer…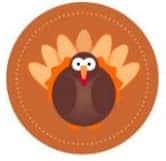 Thanksgiving Delights
On Thanksgiving Day we're thankful for
Our blessings all year through,
For family we dearly love,
For good friends, old and new.
And for sun to light and warm our days,
For stars that glow at night,
For trees of green and skies of blue,
And puffy clouds of white.
We're grateful for our eyes that see
The beauty all around,
For arms to hug, and legs to walk,
And ears to hear each sound.
The list of all we're grateful for
Would fill a great big book;
Our thankful hearts find new delights
Everywhere we look!
By Joanna Fuchs

In this time of gratitude, we give thanks for you. We value your patronage and appreciate your confidence in us. Counting you among our customers is something for which we are especially grateful. On behalf of all of us at Beach Ford and Beach Automotive Group, We wish you a very happy Thanksgiving. May the good things of life be yours in abundance not only during this holiday, but throughout the coming year.
Sincerely,
The Management and Staff at Beach Ford and Beach Automotive Group