Mustang MACH-E: Connecting is Top Priority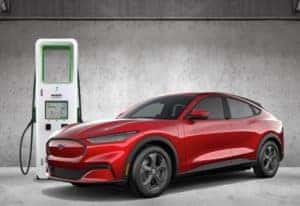 The all-new, 2021 fully electric Mustang Mach-E is equipped with a vast array of cutting-edge, connected technologies. Most of them can be controlled through its impressive 15.5-inch center-stack touchscreen.
So that new owners can take advantage of all the Mustang Mach-E has to offer, proper setup and completion of the activation process is critically important!
Activation Process
STEP 1 – Set Up the FordPass App
Using a compatible smartphone, download the FordPass App.
Set up and Owner Account or log in with an existing account.
Add the vehicle using its VIN.
STEP 2 – Connect Mustang Mach-E FordPass Connect (modem)
Activate the modem in the FordPass App and confirm activation on the touchscreen (select "Allow" when the pop-up appears on the screen)
Pair a compatible smartphone using Bluetooth in the vehicle.
Activate Phone as A Key to use a compatible smartphone instead of a key fob
STEP 3 – Explore the SYNC 4A 15.5-inch Touchscreen.
Set up a personal profile.
Open the Apps Drawer and download compatible all.
Set vehicle preconditioning preferences so Mustang Mach-E is ready to go when you are.
Set up a recurring schedule to Over-the-Air Updates when its most convenient for you.
STEP 4 – Review Vehicle Charging
The Ford Mobile Charger is standard for all Mustang Mach-E models. Review how to use it at home and check the amount of charge in the vehicle on-screen or using FordPass.
Search for public charging stations using FordPass or the SYNC 4A touchscreen.
STEP 5 – Get Support and Get Going
Explore the Digital Owner's manual and use it to search for features using keywords.
To start the vehicle, press the brake pedal and the power button at the same time. The green "Ready" light will appear when the vehicle is powered on.
Confirm that the FordPass App has the Roadside Assistance icon in the upper right-hand corner for when help may be needed.