GLOBAL ELECTRIC LEADER: 1ST HYBRID POLICE CAR
Global Leader
Ford continues its drive to be a global electric vehicle leader. They recently revealed the second of 13 new electrified vehicles. The company plans to introduce in the next five years. How awesome is that?
The First
The industry's first pursuit-rated hybrid police car, the all-new Ford Police Responder Hybrid Sedan, is part of a $4.5 billion Ford investment to make electric vehicles that give customers greater capability, productivity and performance – plus better fuel economy. The plans are part of Ford's expansion to be an auto and a mobility company, including leading in electric and self-driving vehicles, and new mobility solutions.
"Electrifying our next generation of vehicles is core to our unwavering commitment to sustainability," said Joe Hinrichs, Ford president, The Americas. "By being a leader in electrified vehicles, we remain committed to delivering cars, trucks and SUVs that are better not only for our customers, but for the environment and society as well."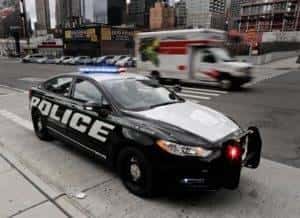 The all-new Ford Police Responder Hybrid Sedan – making its debut in Los Angeles and New York – is the industry's first pursuit-rated hybrid police car. In addition, Ford is delivering:
Another new hybrid police vehicle for North America
All-new fully electric small SUV, coming by 2020, engineered to deliver an EPA-estimated range of at least 300 miles.
Hybrid-powered self-driving vehicle designed for commercial mobility services, starting in North America in 2021
Hybrid version of best-selling F-150 pickup, available by 2020, and sold in North America and the Middle East. F-150 Hybrid also offers powerful towing and payload capacity. It will also operate as a mobile generator tough enough to power a job site
Hybrid version of iconic Mustang that will deliver V8 power as well as even more low-end torque. Mustang Hybrid debuts in 2020 in North America, to start
Transit Custom plug-in hybrid available in 2019 in Europe, engineered to help reduce operating costs in even the most congested streets
Growing global demand

Growing urban populations are overwhelming transportation systems and compromising air quality, first-time car buyers. 50 percent of U.S. millennials say they are interested in purchasing an electric car. This is according to a poll conducted by the Consumer Federation of America.
Ford is at the forefront of driving electric vehicle technology. They are also improving costs on batteries and motors for hybrids, plug-in hybrids and fully electric vehicles. Company focuses on vehicles that deliver improved performance Ford expects sales of hybrids, plug-in hybrids and fully electric vehicles to increase.
The future
In fact, Ford predicts the auto industry will offer customers more hybrids. They will also offer more plug-in hybrids and fully electric vehicles than gasoline-powered vehicles within the next 15 years. By all means, keep checking back to the Beach Ford Blog for more of these global updates!