F-150 Power Stroke Diesel Truck is on its Way!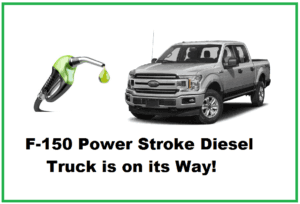 That's right! The first ever F-150 Power Stroke diesel truck is on its way! Full size diesel truck fans now have a reason to revel in excitement!
F-150 Power Stroke
The new diesel F-150 will have a targeted EPA-estimated 30 mile per gallon highway rating. It will also offer a best-in-class 11,400 pounds of towing capacity and 2,020 pounds of payload capacity. Even better, the new Power Stroke diesel F-150 will offer best-in-class diesel 250 horsepower and 440 lb.-ft. of torque.
"For every truck owner who wants strong fuel economy while they tow and haul, we offer a new 3.0-liter Power Stroke® V6 engine that dreams are made of," said Dave Filipe, vice president global powertrain engineering. "The more you tow and the longer you haul, the more you'll appreciate its class-leading towing and payload capacity and how efficient it is at the pump."
New 3.0L Engine
With the addition of this all-new 3.0-liter engine, there will now be six engine choices for all of Ford's F-150 customer! The new V6 diesel will feature the same compacted=graphite iron block material construction and forged steel crank that is currently used in the 2.7L EcoBoost engine. This will offer added strength, durability and reduced weight.
"We know that competing diesels with electric cooling fans have to dial back on power under extreme heat and altitude, so we decided on a viscous-controlled mechanical fan that has the capacity to move much more air across the radiator and intercooler in extreme conditions," said David Ives, Ford diesel engine technical specialist. "This gives F-150 Power Stroke owners more power and more passing capability in harsh conditions."
Exceeds Your Expectations
Whether for personal or business use, the new F-150 diesel will meet and exceed your expectations. Give Beach Ford a call today to place your order. Deliveries will begin this spring so please don't delay. We have knowledgeable staff waiting to help you!