Ford Blue Advantage: Confidence at Every Turn
Experience the benefits of Ford Blue Advantage! Each Ford Blue Advantage vehicle features a limited warranty, multi-point inspection, 24/7 roadside assistance, and FordPass™ Rewards Points.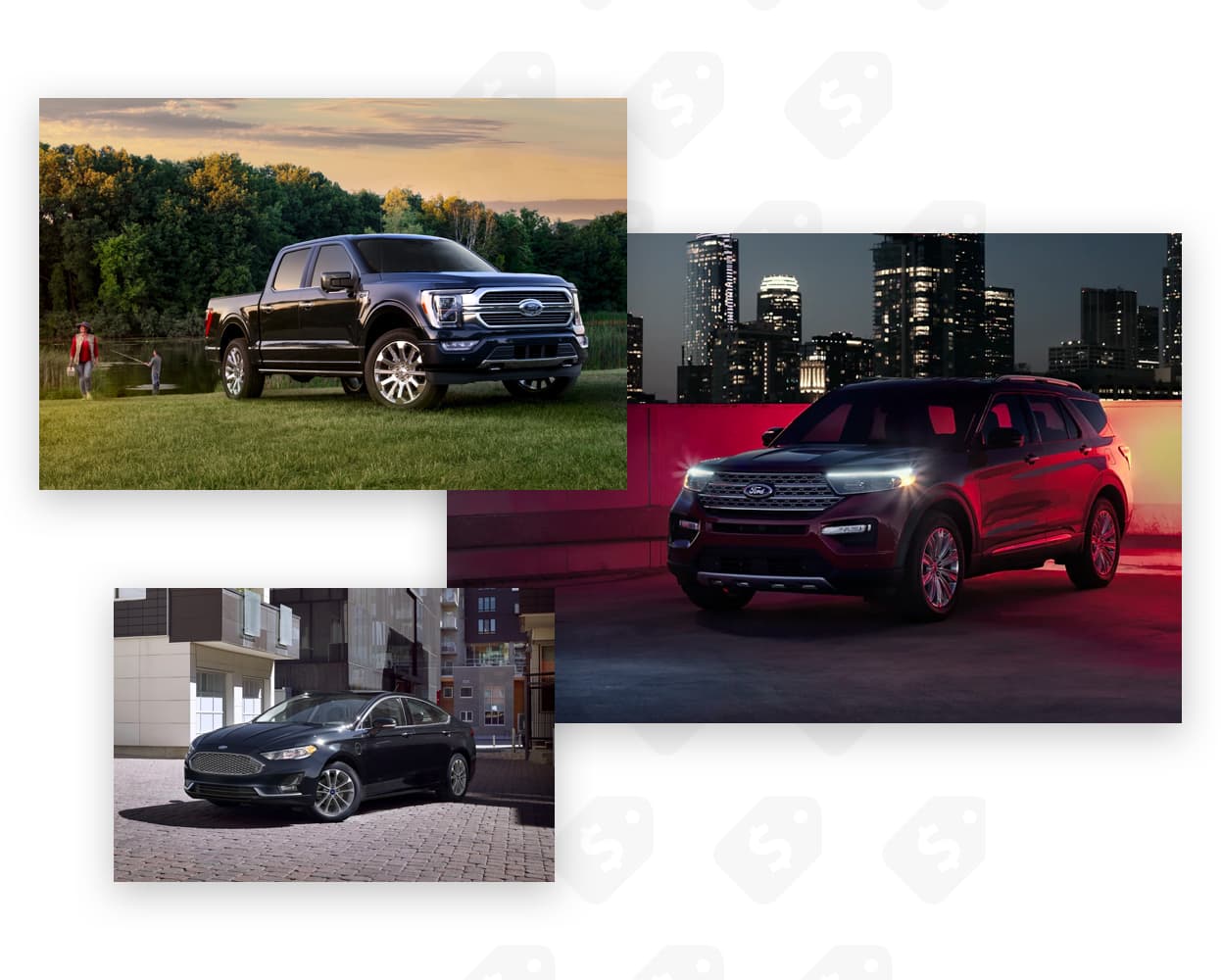 Take Advantage of This Month's Current Offers
Every month Ford releases incredible cash-back offers and special financing rates along with discounts featured in other special programs.
We're Here For You
Beach Ford always puts customers first!
Don't take our word for it: Read our reviews and see what everyone is saying.
This is a great place to buy a vehicle. The people at this dealership are honest and professional. We were treated like family from the time we walked in until we drove out in our new Buick Enclave. The Manager, Financial Officer and especially our Salesman, Bryant Morales, were great. They gave us many payment options and made sure we got the best deal. Bryant explained every option on the car and made sure it was delivered to us bright, clean and ready to run. The car runs like a well-oiled machine and rides like a dream. Definitely will return to this dealership when we need another car. Thanks to all at Beach Buick.
I always take my car to Beach Volvo. Kelly has been fantastic to work with. She's responsive, prompt and courteous! They treat me like family and know my car better than I do.
Matt Hayner was awesome to work with! He understood my situation and was quick to help me fix it, going above and beyond! I explained to him how I've really been considering a truck, but wasn't sure if it would fit my budget. After looking at a couple options within my budget that we're unfortunately not trucks, timing and Matt's eagerness to help his client both aligned as a truck was just coming in that he was confident he could make work for me! After working with his team, Matt was able to put me in a truck that I couldn't be more excited for! If you're going to shop at Beach Automotive, Make sure to ask for Matt Hayner and you are sure to be in great hands! Thanks again Matt!
My Husband and I just purchased a Lincoln Avaitor from Beach automotive and absolutely love it. Our salesman was Aaron B., he made our whole experience very pleasant and it was smooth and hassle free. Would recommend Beach Automotive and Aaron B. to our friends and family.
Great service. Easy process. Drove 2 hrs to purchase Lincoln. Aaron Baunchek was great to work with. Had everything done when we arrived, signed a few forms and was on our way! One of the best auto buying experience I have ever had.
I PURCHASED a 2021 ford ranger tremor from Beach Ford in February 2022 and my whole experience is beyond perfect WHY? Because it has been 3 weeks and I still look at prices of other dealers pre owned rangers and none compare to the price that Beach Ford finalized for me others are any where from $500 to $1300 over for a lariat ranger and not even being a tremor .So people do your research and compare Beach Ford sells quality pre owned vehicles for less
My husband and I both traded vehicles on one day. Our purchases went smoothly. Everything was explained throughly. We felt comfortable and we appreciate Clay Purifoy's patients and professionalism!
I recently purchased a Ford truck. My client advisor was Clay Purifoy. Clay was very knowledgeable and a pleasure to work with. The vehicle I was looking for had been sold so Clay found another truck that suited my needs better than the one I had been looking for. I have called Clay a couple of times since and he was always there with a quick and accurate response. It was a pleasure working with mister Purifoy.
I just purchased a 2021 Bronco from BEACH AUTOMOTIVE GROUP and could not ask for a better experience.. The salesman was helpful in everything I inquired about. Very polite and easy to work with. I highly recommend this dealership H. Eugene Hudson
I just completed one of the most enjoyable automobile purchases of my life (there have been many...age intentionally withheld) . Beach Ford and my salesman (Aaron Baunchalk) handled the transaction in an enjoyable, low pressure, informative.....Professional Way. In today's time of online purchases it was refreshing to have someone in front of you to ask questions of and get an immediate answer. Not to mention that the answers were direct and knowledgeable. Thank You Aaron and Beach Ford, I look forward to having a little fun in the Mustang and continue to love the F150 I bought from you a few years back. Great Job, A Beach Ford Customer
Lease a 2020 Lincoln Nautilus from Beach Ford yesterday. One of my better experiences that I have had when buying or leasing a car. I was extremely pleased with the little amount ofbtimenI had to spend on paperwork.
We had a problem with dead battery and noticed back ceiling lights not going off in our Lincoln. They installed new battery, but also kept car for days, giving loaner to determine light issue so we wouldn't have dead battery issue again. Charity Murphy was great, even followed up with call days after picked car up and didn't overcharge us. Charity has restored our trust in using dealership repairs. We are confident in Beach Automotive'a integrity to only making necessary repairs and not overcharging.
Mr Brown gave us a good deal and Evan was very patient and informative. Evan even took a phone call late in the evening regarding a question we had.
Thank You Beach Automotive!!! Especially Kevin (Best Salesman Ever) and Don in Finance!!! They both made sure my Son got the best car, great low miles and their Professional was above the rest!!! They made sure his payments were within his price range!! I would definitely would recommend this Dearlership!!!
Peter Wilkin was extremely helpful and friendly in answering all my questions and showing me all the ins & outs of using my new vehicle (Escape). The only problem I had was that Peter kept being called away to help another customer which made my buying experience longer than what I would have liked. Rob has worked & did work (service recall) on my old Ford Focus and has always been very pleasant & informative of work that was done.
Tamika Scott, Client Advisor at Beach, made my Buying Experience of my first Lincoln a delight. Tamika is very knowledgeable regarding vehicles and helpful in working a deal that fit my budget. She took the time to explain all the features on my car and answered all my questions. All the staff at Beach Automotive Group we're friendly and courteous. Thank you Beach Automotive!
We had an idea of the vehicle we wanted and one was shown to us quickly. checked our trade-in and took the test drive, looked over the features and were very pleased with the help our sales agent helped us thru the process.
A light came on were you push to start your car. First time we have had anything to happen to our 2014 Mazda. Called they worked us in and had it done in a couple of hours.. We were on vacation at Holden Beach and they were the only Mazda service department around. But everyone was wonderful to help anyway they can. A very pleasant t experience. Thank you all : )
BEACH FORD / LINCOLN has an excellent sevice staff, I personally wentbfor my 7500 mile check up and the advisor had my car finished washed and dried in one and half hours . Went through my vehicle report card with me .If your in the market for a FORD OR LINCOLN stop by BEACH FORD /LINCOLN. .. YOU WILL LEAVR WITH A REMARKABLE VEHICLE AND GREAT DEAL
Dealership is fantastic, especially Clay. Told him that we wanted a specific car, specific exterior and interior color. He located one, which would be delivered the next day. We bought the car right then and there. Picked it up the next day. He went over with us what everything inside (buttons) was for. He was fantastic. If you go to this dealership, I recommend you ask for Clay. He goes beyond. We are a very happy couple with our purchase, Clay and the dealership..So go see Clay.......
Thank you for your excellent service. Crystal was great keeping us updated on the status of our Explorer. We thought this would be the end of our vacation and they turned things around for us in fast time.
The staff at Beach Ford is absolutely amazing! Crystal in the Service Department went above and beyond to get our Expedition serviced in a timely manner. Since our lease was up, my wife worked with Joe Landfried to find the perfect vehicle. Joe, along with Devin, search all over and found the perfect vehicle in Florida. Once we filled out the necessary paperwork, the car was transported to Beach Ford the same day! Nick Rogers handled all of the required paper work quickly and Joe explained all of the features of our new Flex before we left the dealership. We have nothing but he highest praise for everyone at Beach Ford. Thank you for making the entire process painless!
after looking for an explorer reading up resurching and gar=thering all my information on exactly what i wanted. i went into beach automotive ford, after talking to the service staff i choose my salesman (james brown) believe it or not told him what i wanted he searched and found my car over 200 miles away and brought back to myrtle beach added running bords and front tag then presented just what i orded. fast friendy and at a price lower than i expected. so if your looking for a car at the right price anf people who will wprk with and for you beach auto will be for you to.
You are certain to have the BEST car buying experience at Beach Mazda! I highly recommend DJ Toperek and Andrew Berardi as they took the time to get to know me, my need and wants in a new car. Andrew went above and beyond to locate and procure the best pricing for my new 2018 CX5. Congruently, he kept me updated throughout the sales, insurance and financing processes. No guessing and no games. Just honest, straightforward people representing themselves and the Mazda brand. Finally, I want to also thank Chris Wernett Mazda (Mazda Sales Mgr) for making this a truly phenomenal experience!
They repaired before the scheduled time to open. The part was on the under side of the vehicle And was repaired to my fullest satisfaction

Welcome to Beach Ford
Stop by and visit us today at Beach Ford, your local Ford dealership serving Myrtle Beach and surrounding areas. Here at Beach Ford, we carry new Ford, used cars, trucks and SUVs to fit every need. We take pride in the vehicles we sell and strive to succeed in great customer experience and satisfaction
At Beach Ford we give you easy access to the most up-to-date internet car buying tools: you can quickly view our New Specials, Used Car Specials, Used Vehicle Inventory, research or compare your new vehicle, request a test drive, apply for financing, schedule your next service appointment, or even get door to door directions. Give us a call at (843) 839-8168!
Contact Us
Beach Ford
851 Jason Boulevard
Myrtle Beach, SC 29577
Sales:
843-492-5939
Service:
843-492-6558
Parts:
843-353-6802
Directions