2022 F-150 Lightning: A New Direction!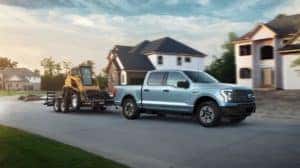 It's a bold statements to refer to any truck design as "a truck for the future." That is, until you get to know the all-new, all-electric 2022 F-150 Lightning pickup – the smartest, most connected, most innovative F-150 ever.
Lightning will offer a completely new approach to power, features and benefits, never before seen on an F-150. Here, in the first of several preview stories, we are going to take a high-level looks at what's on the horizon.
Strategy
While some other manufacturers explore exotic concepts, at Ford, we have a different approach. We are launching the new era of electrification with our most iconic products, and that's why you will see vehicles, such as F-150 Lightning, Mustang Mach-E and E-Transit, as our first full electrics out of the gate.
For Lightning, carrying the proven F-Series name – the best-selling truck brand in America for 44 years – combined with its Built Ford Tough commitment to capability and durability, strengthens our positions as we introduce an all-new electric truck to the market.
Power
Dual eMotors, one at each axle, engage simultaneously to generate impressive power. On extended- range battery models that equates to 563 horsepower and a nearly instant 775 lb.-ft of torque, targeted to move Lightning from 0-60 mph in the mid-4-second range.
It does that with zero emissions and a targeted EPA-estimated range of 300 miles with the available extended-range, lithium-ion battery.
Innovations
In addition to its all-electric capabilities. F-150 Lightning will also introduce a range of all-new features and evolved technologies.
Front Loader
Beyond the traditional bed capabilities of a pickup. The Mega Power Front Trunk (Frunk) will add approximately 14 cubic feet of extra lockable space and 400 lbs. of payload capability. The power open-and-close waterfall-style hood opens at the lower edge of the grille, providing easy loading access. And features a washable lining and drain.
Intelligent Backup Power
Lightning will offer the first-ever Intelligent Backup Power bidirectional electricity system. In the event of a power outage at home, the F-150 Lightning can be used to supply power to the house. When the power is resorted the truck returns to charging itself.
Pro Power Onboard
Lightning will also include standard 2.4kW Pro Power Onboard, featuring an available enhanced 9.6kW system that will yield up to 11 outlets in the cab, cargo box and front trunk.
Key Technologies
Lighting will also offer the latest iterations of:
Ford Co-Pilot360 driver-assist technology and available BlueCruise
SYNC 4A with 15.5-inch portrait-style touchscreen on Lariat and above. SYNC 4 with 12-inch landscape-style touchscreen on Pro and XLT
Cloud-Connected features – including the latest charge management and navigation systems
Built Ford Tough
At it was being developed, F-150 Lightning met the same torture-tested Built Ford Tough durability requirements as all F-Series trucks. For Lightning, that translates to a targeted maximum available tow rating of 10,000 lbs. and a targeted maximum payload rating of 2,000 lbs., combined with the latest innovative towing technologies.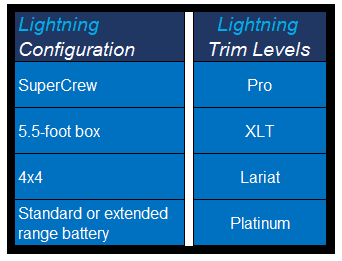 Charging
Lightning will even take charging to a new level. Customers can charge faster with the available Ford Charge Station Pro wall unit, delivering a 240-volt charge to the battery at an 80-amp rate – an upgrade over the 240-volt/48-amp wall unit. When drivers need a charge on the road, they can use their touchscreen or a feature within the FordPass App to find the nearest station in the largest charging network in North America.