2017 Hyundai Tucson Vs. 2017 Ford Escape
2017 Escape Takes on 2017 Hyundai Tucson
The 2017 Escape is a great example of the Ford Commitment to service up impressive performance, efficiency and innovative technology. Escape is a tough competitor in the small SUV segment. Recently, the 2017 Hyundai Tucson has been taking aim at Escape. We know that some of our customers may be cross-shopping, so here are some points to keep in mind.
Advantage Escape!
So Hyundai wants to take a swing at Escape and tout their entry-level model? Here are some facts about Escape to keep in mind:
Technology – Escape packs a wallop!
Base Escape S models offer their own impressive lists of standard features
A variety of advanced technologies are offered on both SE and Titanium models
Hyundai reserves advances technologies for their "Limited" shoppers only
Ground Clearance – Higher ground clearance equals more SUV capability. Escape 4wd stands tall with 7.9-inch ground clearance versus Hyundai at 6.4 inches.
Cargo space – Escape offers more – seats up or seats down. Consider what 6 more cubic feet of space on an Escape looks like (seats down). An extra set of golf clubs is easy for Escape.
Powertrain – with comparable fuel economy figures, every Escape engine, base or optional, outperforms Hyundai with more horsepower.
Towing – All Tucson models offer a 1000 lb. trailer tow capability; note that Tuscon can carry up to 1500 lbs if the trailer has brakes! What does that say about their brake system? This is what Escape serves up:
Escape S can tow a 1500lb trailer, whether or not the trailer has brakes
Both Escape EcoBoost engines have a standard tow rating of 2000 lbs.
The 2.0L EcoBoost combined with the Trailer Tow Package can tow up to 3500 lbs.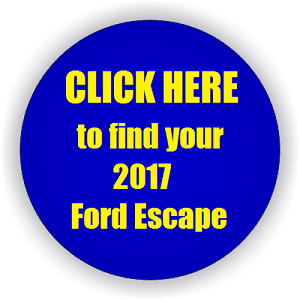 The verdict: While Hyundai might have a lower entry-level MSRP, comparing the details, Ford Escape delivers more SUV power, cargo space, towing and breadth of available features than Tucson!
Advantage Escape – Value
Recent 2017 Hyundai Tucson advertising has been promoting the value of its entry-level model, but make sure you read their small print and keep this in mind:
Tucson's commercial promotes an entry-level MSRP vehicle showing a $34,000 vehicle. So that means what you see isn't what you get!
Starting MSRP for Escape is $23,600, compared to $22,700 MSRP for Tucson SE. We highly recommend that comparison shoppers closely compare standard equipment on Escape S versus that the will find on the standard base Tucson.
Advantage Escape – Exterior
The 2017 Hyundai Tucson talks about its European-inspired styling, but from it hexagonal-shaped grille to it creased side panels and sculpted hood, Tucson designers appear to have liked Escape. Escape offers a total of six available wheel designs, compared to only two for Tucson. The Escape Sport Appearance Package, when paired with the 2.0L EcoBoost engine, delivers a real "sport" driving experience compared to Tucson. Escape customers have more choice to get what they want with a wide variety of specialty, comfort and technology packages. Tucson offers on two personalization packages.
Advantage Escape – Technology
Escape and Tucson offer a similar model lineup. The difference lies in the availability of advanced technologies. At Hyundai, advanced technologies are only available on the Limited model. At Ford, the S, SE and Titanium each offer an impressive list of standard features. However, you will also find impressive available technologies such as these on SE and  Titanium:
Adaptive cruise control and forward collision warning with brake support
Enhanced Active park Assist
Heated steering wheel
SYNC3
SYNC Connect powered by FordPass
Advantage Escape – Interior
We encourage comparison shoppers to notice how Escape uses "soft-touch" points, premium quality materials and careful craftsmanship throughout. We challenge them to compare SYNC3 to the Hyundai Blue Link system. Beach Ford also challenges comparison shoppers to compare seat comfort, the ride and the cargo volume. You'll be amazed at the room. Behind the first row, 2017 Escape has 68.0 cubic feet of cargo volume whereas the 2017 Hyundai Tucson only has 61.9. Behind the second row, Escape offers 34.0 cubic feet of cargo volume. The Tuscon only offers 31 cubic feet of cargo volume.
Advantage Escape – Powertrain

Are you interested in getting behind the wheel of your own Ford Escape? We'll show you how, so give Beach Ford a call today! You'll be rising in your own 2017 Ford Escape today!